Crazy Time Live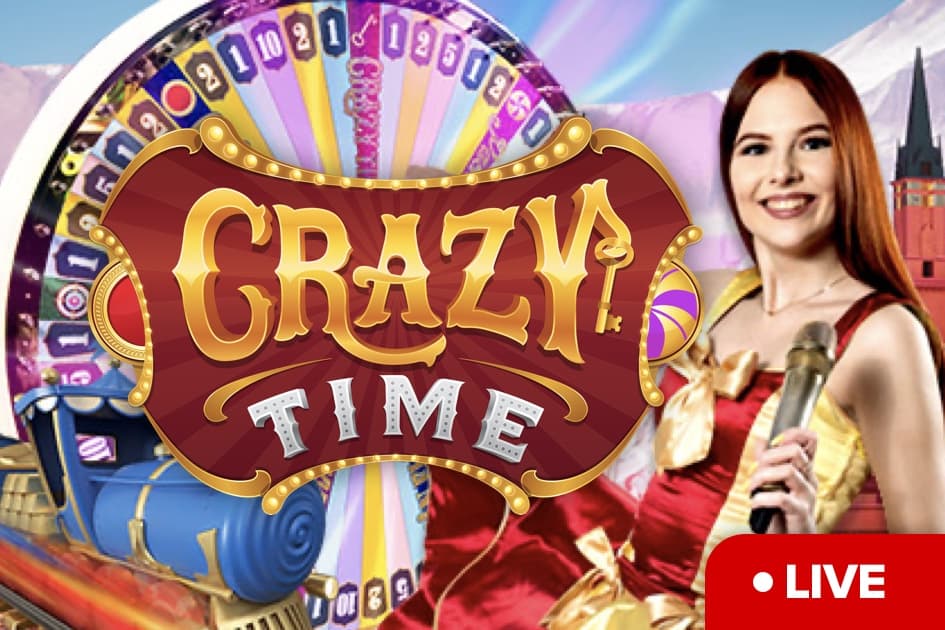 Crazy Time Live Introduction
Crazy Time Live is Evolution Gaming's Wheel of Fortune-inspired live online game show with mighty crazy play and a combination of multipliers, repsins, side bets, bonuses and stunning HD presentation!
Crazy Time Live Game Details
RTP (Return to Player):

96.08%

Min / Max Bet:

£0.10 / £375.00

Hit Rate:

1 in 2.6

Volatility:

Low

Auto Play:

Yes

Diamonds per £:

Min. 0
Features Bonus Setup, Bonus Wheel, Game Show, Multiplayer, Multipliers, Pick Me Bonus, Respins, Side Bets, Tableau / Stats, Unique Bonus, Wheel Game
Crazy Time Live Game Background
Crazy Time Live is an online live casino game that was released by Evolution Gaming in July 2020. The framework and mechanics build on the developer's earlier Dream Catcher but Evolution has upped the ante with the addition of multipliers and the following 4 bonus rounds: Cash Hunt, Pachinko, Coin Flip and Crazy Time. The main feature of the game is the massive and colourful 54-segment vertical Wheel of Fortune that dominates the screen whenever the camera focuses on it. Adding to the appeal is the game's HD presentation, complete with a live dealer decked out to the nines, live chat and more. And with new games starting regularly, you won't be missing out on playing any time soon.
Crazy Time Live Game Design
Evolution Gaming has created something truly special with this live game. Load up Crazy Time Live and you're immediately transported to the stage area of the game show where a specially trained presenter awaits to take you through the game, and where you can experience the excitement of every spin and stop in a live setting with other players around the world. If the game has any primary colours, then green, purple and gold are those colours, and they come in different shades. However, the whole stage dazzles in a myriad of colours, blue, yellow, red, purple, green, and more. The HD presentation is captured from immersive different camera angles that let you get up close and personal to the action.
Crazy Time Live Mobile
At Lottomart, Crazy Time Live is available on desktop PC and across a whole host of mobile and tablet devices aT, so you can take it with you on the go. All that's needed is a stable internet connection.
Crazy Time Live Rules
Like all the other online casino games that revolve around the concept of the Wheel of Fortune, Crazy Time Live's base game is all about predicting the segment the wheel will rest at once it has stopped spinning (each spin of the wheel has a randomly assigned multiplier) At the same time, the game adds an extra layer of excitement via its 4 bonus games, all of which also grant multipliers.
Let's start from the top. To begin the game, simply place a bet on the segment you believe the wheel will stop at. You can use the segmented number bet spots 1,2,5, and 10. Alternatively, you can use the bonus game bet spots, Cash Hunt, Pachinko, Coin Flip and Crazy Time.
You have a certain amount of time to get your bets in before the presenter spins the massive wheel. When he/she does, a 2-reel Top Slot mini-game will start, and this is displayed on a TV screen above the wheel (you'll see it that looks very much like a classic mechanical slot machine, down to the way the reels spin). On each round, the Top Slot determines a random multiplier for one random bet spot, and this is either a number or a bonus. If a bet spot and multiplier align on a horizontal line in the middle of the Top Slot, then it's a match and a multiplier is added to the bet spot. If the bet spot and multiplier don't align, then the game proceeds without a multiplier.
When the Crazy Wheel comes to a stop, the winning segment is indicated by the flapper at the top. If the wheel stops at the number or bonus segment you placed your bet on, then you win! Any multipliers that were added to the bet spot also get added to the win. All players can observe the bonus games, but only players who have placed a bet on the corresponding bet spot can take part.
The game rules are very easy to understand and follow. However, in case you need any help, the presenter is always on hand to guide you through the proceedings. Plus, if you just need a refresher on the game rules, simply select the question mark icon in the top-right of the screen at any time.
Crazy Time Live Bonus Features
As mentioned above, Crazy Time Live includes several bonus features, all of which will be discussed below. To play the bonus side games, you'll need the Crazy Wheel to land on a bonus segment. And depending on the bonus segment stopped at, you'll be able to play 1 of these 4 bonus games.
Cash Hunt
Cash Hunt is best described as a shooting gallery featuring a large screen with 108 random multipliers. The dealer then pulls a gold handle, which has the effect of shuffling the multiplier prizes and hiding them under random symbols. A countdown timer starts, during which you can prepare to aim a cannon at the spot that you believe holds the highest multiplier values. Once the countdown stops, the cannon is fired and hits the spot that was aimed at, revealing the up-to-then hidden multipliers. If no decision was made, or there was an interruption during gameplay, then the decision of where to aim the cannon will be made automatically. Although this is not a Jackpot game, it's possible to win up to 25,000x the bet in Cash Hunt.
Pachinko
The Pachinko bonus round is played on a Pachinko wall with 16 random multipliers in the landing zone at the bottom and a random puck drop zone at the top. The presenter drops the puck, and players win whichever multiplier they land on. Should a puck land on a DOUBLE, then all the multipliers at the bottom of the wall are doubled. The presenter then drops the puck again, and should it land on a DOUBLE numerous times up to a multiplier value of 10,000x, the DOUBLE is replaced by the 10,000x multiplier figure.
There is a little epilogue to the Pachinko bonus round called the Rescue Drop. This happens occasionally should the puck land on a 2x, 3x, or 4x multiplier. The puck drop zone is randomised and the puck dropped again. If a Rescue Drop is triggered, then all multipliers with lower values than that of the multipliers the puck previously landed on will be increased to the value of the previous multiplier. It was meant to be a surprise, but there, we've just spoiled it for you.
Coin Flip
A thrilling coin toss bonus game, heads you win, tails you win! Here's how it works. A red and blue coin appears on a TV screen as soon as the round is triggered. Each side of the coin has a random multiplier assigned to it (up to a grand multiplier value of 5,000x). The coin is then automatically flipped, and players win the multiplier value of the side that's face-up.
There is a little epilogue to the Coin Flip bonus round as well, it's called the Rescue Flip. It may trigger if the initially assigned multipliers are too low. In this scenario, the coin would be flipped again. There, we've just spoiled another surprise for you.
Crazy Time
We've saved the best bonus game for last! Want to know what's behind the red door? Only a crazy virtual world with blimps and roller coasters and a crazy gigantic 64-segment Wheel of Fortune with 3 flappers that's full of crazy bonus multipliers! Segments include multipliers and DOUBLE or TRIPLE symbols. It's time to spin to potentially win nifty prizes, including a staggering 160,000x the bet! Did we say this bonus round is crazy?
Here's how to do it. First select your flapper from a choice of green, blue or yellow. This needs to be done within the timer. If no decision was made, or there was an interruption during gameplay, then a flapper is automatically assigned to you at random. The giant-sized Crazy Wheel spins and then comes to a stop.
If a flapper stops at a DOUBLE or TRIPLE segment on the Crazy Time wheel, then the multiplier values on the wheel will be doubled or tripled. Not only that but the wheel will be spun again for those players who selected the correctly coloured flapper, leading to potential crazy winnings! Should the Crazy Time wheel stop at the DOUBLE or TRIPLE segments many consecutive times up to a multiplier value of 20,000x, the DOUBLE and TRIPLE segments are replaced by the 20,000x multiplier figure!
Play Crazy Time Live
So why not have a crazy good time with Crazy Time Live from Evolution Gaming? If you enjoy this type of game, we recommend other titles from the same developer, such as Monopoly Live and Cash or Crash!
Other live games from Evolution Gaming
Enjoy this slot and want to see other titles we have on-site? Check out these other slots from Evoluton Gaming:
Show all games
Safer Gaming
This is a real money gambling site. Please keep your play safe and fun at all times and only bet what you can afford.
Crazy Time Live at Lottomart Games
Time to spin the wheel and earn multipliers in Crazy Time Live from Evolution Gaming! If you are a new Lottomart UK customer, you can access our generous welcome bonus, which will grant you some extra gaming funds. New customers can get a 100% deposit match bonus up to £100! 18+, terms apply. If you join and deposit £100, we will give you another £100 in bonus funds to play around with!
£10 min deposit. £100 max match. 50x wagering. Game eligibility & contributions vary. 10p to £5 bet range. £500 max redemption. New players only. Limited time offer. Valid 7 days. Terms apply.
View full 100% Games Welcome Match Deposit Offer Terms and Conditions →