How can I bet on Thursday's $477M US Powerball?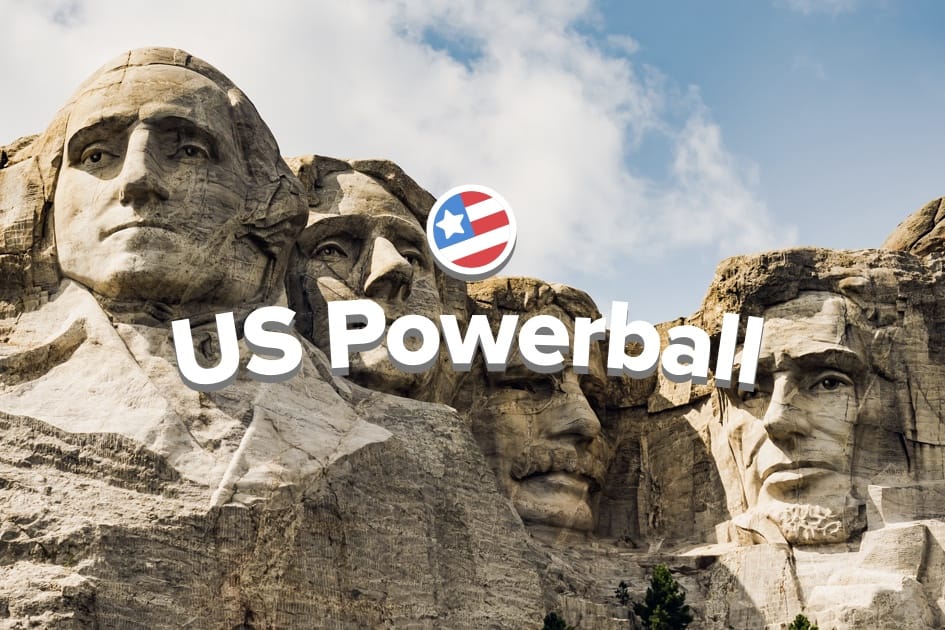 Next draw: $477M on Thursday, 14 Dec 2023 UTC
Alongside Mega Millions, the US Powerball shares top spot for the biggest American lottery draw and is famous around the world for the size that the jackpot can reach. The minimum jackpot payout currently starts at US$20m, but when this begins to rollover, the prizes can escalate quickly and at its peak in 2016 three winning tickets shared the biggest prize in history of US$1.6bn! With jaw dropping sums like that on offer, it's no surprise that people around the world are desperate to get involved in the fun.
At Lottomart Games we offer international players the chance to do exactly that, by betting on the outcome of the official US Powerball draw, without the need to travel to the USA to buy your tickets. With a 1 in 25 chance of scooping a prize and 9 ways to win, you can select your favourite numbers quickly and easily online and then all you need to do is sit back and wait for the results to come in from the Florida studio to see if you've won!
How does betting on US Powerall differ from buying a ticket in the draw?
People living around the world don't have the option to buy a physical ticket in the official draw, which is why betting on the outcome is such a great choice if you're outside the USA. You can still take your chance of winning the huge jackpots on offer by registering and making your selections simply and easily online at Lottomart Games.
You won't notice any real difference at all when you're selecting your numbers or making the quick picks - the structure of the game is identical and if you're lucky enough to match all 6 numbers and win big, then Lottomart Games will payout. For full details on what betting on lotteries with Lottomart is all about, please head to our lotto page here.
How do I check the US Powerball results?
Checking the results of any lotto draw on Lottomart Games is straightforward. When on site or in the app, just head to the My Buys section and you'll be able to see the results for all the draws you have bet on. If you're eager to check if you've been one of our lucky winners, then you don't have long to wait for the results to be in. We will make them available as quickly as we possibly can after the official draw has taken place.
The majority of wins will be automatically credited to your account quickly after the draw has been settled. Normally that means that cash will be in your account within a few hours of the draw taking place. If you've managed to hit a big one, then due to the size of the payouts on offer, these prizes may require a few more verification checks and we will have the winnings credited to your account as soon as those have been completed.
If you want to see which numbers have been landing regularly and which ones haven't fallen for a while, then look at the draw history for the US Powerball here.
How do I boost my chances of winning the US Powerball?
Lottomart is the only place international players can take advantage of a unique feature we've developed to help increase the chances of winning a prize on the US Powerball or any of the lotteries we offer.
Boost works by offering you the choice of decreasing the jackpot prize, in return for a proportionate increase in your chances to win it. All of this is free and gives you the option of how to try and hit a big win! Here's how it works:
Let's say you've heard that the US Powerball main jackpot has hit a staggering US$640m and you want to get involved from outside the USA. The payout is SO big that you'd be happy with just a fraction and would love to have as many chances as possible to win it. Well that's exactly what boost is for.
For the same price as a single line bet, you can choose to boost your bet by up to 32x and accept a proportionate reduction in the jackpot in return. So in the scenario above, you could choose to have one line bet with a chance of winning US$640m or 32 line bets with a chance of winning US$20m! You could even have it both ways and do both! The choice of how to attack those big prizes is totally up to you.
For more information on the exclusive boost feature at Lottomart games visit the pages dedicated to boost in our support section, or why not just have a play around with the simple to use functionality when you're placing your next lotto bet.
US Powerball Rules
US Powerball lets you bet on the outcome of America's Powerball. You select numbers in the same way as Powerball lottery players and the result of your bet is decided by the underlying lottery draw held in Florida Lottery's studio in Tallahassee, United States.
US Powerball draws Monday, Wednesday and Saturday evenings at 23:00 Eastern Time (ET), including holidays. This is normally 04:00 UK time on Tuesday, Thursday and Sunday.
Summary

Draws Monday, Wednesday and Saturday evenings at 23:00 Eastern Time (ET), which is approximately 04:00 UK time on Tuesdays, Thursdays and Sundays
1 in 24.7 chance of winning a prize per line bet
No minimum jackpot
No minimum jackpot growth
9 ways to win
5/69 + 1/26 (Powerball) format
Advance purchase option normally available
Boost option normally available

How to play and win
To make a bet:
A line bet consists of 6 numbers from 2 separate pools:
5 different numbers from 1 to 69
1 number from 1 to 26, known as the Powerball
You can choose your own numbers or use quick pick to have numbers selected for you.
Bet options:
You can:
Add line bets to your bet slip.
Bet upcoming draws with the future draws option, subject to availability.
Boost your line bets up to 32 times, subject to availability.
To win:
The objective is to match the numbers for each individual line bet to the numbers drawn in the underlying lottery draw.
5 main numbers are drawn and 1 separate Powerball is drawn.
Matching all 5 main numbers and the Powerball in one line bet wins the jackpot.
You can only win 1 prize (the highest matching prize tier) for each line bet.
See below for all matching combinations.
How to check your results
We will make results available as soon as possible after the underlying draw has taken place. You will find all draw details by going to My Buys.
Most prizes will be credited to your account immediately. Bigger wins in the top prize tiers may be subject to additional verification procedures and adjustments. If you haven't heard from us directly, please check your bet ticket for more information and wait a few hours for your account to be credited.
Combinations & odds of winning
For prize values, see the prizes tab. Prize types are defined as follows:
Type A is a jackpot and means that the prize pool in this category will be divided by the total of all winning combinations by Lottomart players, players in the EU Lotto network, and players of the underlying lottery draw.
Type B is the same as Type A but is not a jackpot.
Type C means the prize awarded is independent of winners in the underlying draw and is not further adjusted by winning combinations by Lottomart players or players in the EU Lotto network.
Tier 1 (Jackpot)

Match 5 + Powerball to win
Type A prize & subject to adjustments
1 in 292,201,338 odds of winning
No minimum jackpot

Tier 2

Match 5 to win
Type B prize & subject to adjustments
1 in 11,688,054 odds of winning

Tier 3

Match 4 + Powerball to win
Type C prize & subject to adjustments
Fixed prize
1 in 913,129 odds of winning

Tier 4

Match 4 to win
Type C prize
Fixed prize
1 in 36,525 odds of winning

Tier 5

Match 3 + Powerball to win
Type C prize
Fixed prize
1 in 14,494 odds of winning

Tier 6

Match 3 to win
Type C prize
Fixed prize
1 in 580 odds of winning

Tier 7

Match 2 + Powerball to win
Type C prize
Fixed prize
1 in 701 odds of winning

Tier 8

Match 1 + Powerball to win
Type C prize
Fixed prize
1 in 92 odds of winning

Tier 9

Match the Powerball to win
Type C prize
Fixed prize
1 in 38 odds of winning

Adjustments
Prize tiers 1, 2, and 3 are subject to a 38% reduction; the equivalent deduction for state and federal tax that is paid by winners of the underlying lottery draw.
Prize tier 1 (the jackpot) may be subject to an additional adjustment if it is paid all at once (lump sum) rather than in yearly instalments (annuity); the player may request which option they prefer. Lump sum payouts are subject to a further 40% prize reduction to be the same as the net present value of the 30 year annuity package. Approval of an annuity payout is at the sole discretion of Lottomart.
Other options
We don't currently support the Powerplay option.
General
All bets are subject to Lottomart's general Terms and Conditions. Please refer to them for more details.
View full 100% Games Welcome Bonus 1 Terms and Conditions →