Mega Ball Live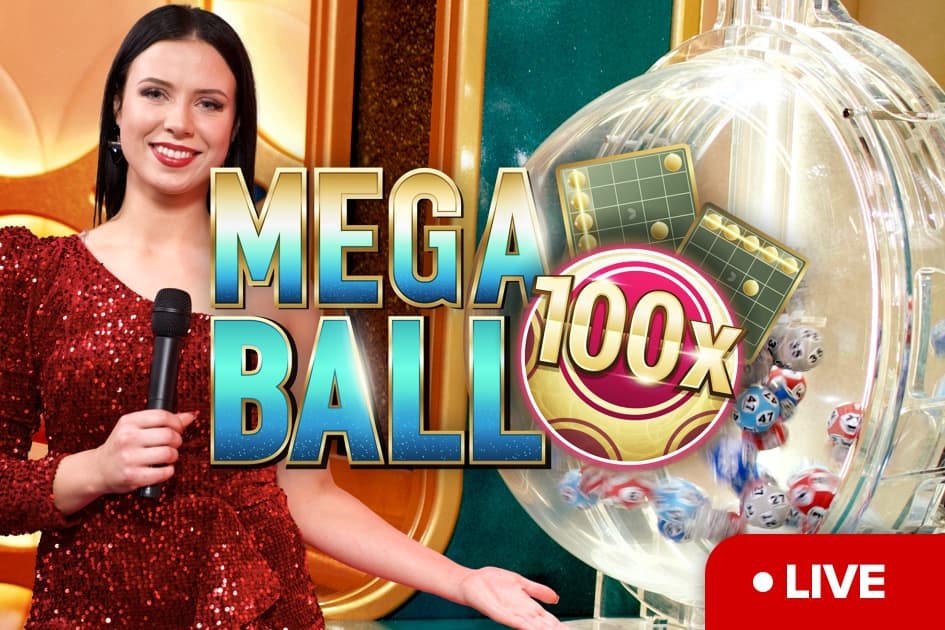 Mega Ball Live Introduction
Are you one of those bingo enthusiasts who think that the regular name is a bit too slow? Or that bingo could use a shot in the arm in the form of massive multiplied wins? If so, try your hand at Mega Ball Live, a live-action bingo show housed in a game show format that offers all the fun and frenetic (or as frenetic bingo can get) action you can throw a bingo ball at. 
Mega Ball Live Game Details
RTP (Return to Player):

95.40%

Min / Max Bet:

$0.20 / $40.00

Hit Rate:

1 in 6.6

Volatility:

Low

Auto Play:

Yes

Diamonds per $:

Min. 400
Features Game Show, Multiplayer, Multipliers, Numbers Game, Tableau / Stats
Mega Ball Live Overview
Mega Ball Live is a fast-paced, unique, and entertaining live version of bingo that's all about thrills and excitement. At the same time, the game's low volatility and high RTP combine to create a thoroughly exciting gameplay experience, one where you're never too far away from a significant winning combination, especially with the addition of Mega Ball multipliers (more on this later). And with a betting range starting from just £0.20, Mega Ball Live is fitting for virtually every budget type.
In terms of presentation, the action is streamed live from a live studio that's all about the retro gold look (the show looks like it could have been made in the late 70s/early 80s) and being a live show, has an engaging and chatty presenter that directs proceedings and keeps things interesting, plus they all wear glamorous dresses or glitzy suits.
Here is how things work in general terms in Mega Ball. First, you need to buy a pack of cards to play with, and each has a different value. Once you've selected a pack, then it's time to start completing lines of numbers on your card or cards. The mechanism by which this happens is the Ball Drawing Machine, which (as the name implies), draws out different numbered balls. The objective of the game is to complete as many lines per card as possible. The more lines you compete, the greater the wins you accrue. Let's look at the process in a bit more detail.
Mega Ball is played with anywhere between 1 - 400 Mega Ball cards and the aforementioned Ball Drawing Machine (you can see the numbered balls being spun and churned inside the clear spherical dome of the machine). Each card, then, displays a grid of 25 numbers laid out in a 5×5 formation, including one wild space in the middle. The free square in the middle is already considered an already-marked square. Victory is achieved by obtaining either a horizontal, vertical, or diagonal line of 5 squares. Additionally, it's possible to mark up to 9 lines per card.
Highlights of the Game
Live studio presentation: The action in Mega Ball Live is unique in that it adopts a gameshow format and takes place in real-time in a live studio with an actual presenter directing the flow of the games, and in which the player remains in the comfort of their own home, so there's no need to go out to an actual casino.
Fast-paced action: If you thought regular bingo was slow and boring, then Mega Ball Live has you covered. The action is as fast-paced as it's possible to get with bingo-type games, while the presenters keep proceedings zippy and moving at a fair clip.
Main Game Round: Players can buy between 1 and 400 cards per round while setting the values on each of them. Also, cards are multiplied by the value to give the total stake for the round. You can add more card packs after buying the first one, plus it is also possible to change the cards' value at any time, so long as betting is still open. Your selected card value will be automatically applied to all of your cards. Cards are visible on the screen regardless of the amount. Another thing to note is that the numbers on the cards are random, but you can refresh to get new ones if you so wish, although refreshing cards is only possible while betting is open.
Once the action starts, all 51 balls are comprehensively swirled and blown around inside the dome, although only 20 are drawn from the Ball Drawing Machine. If the number of the drawn ball matches a number in any of your cards, a badge is automatically placed on that number. When a completed line is collected, your winnings per card are automatically updated and displayed beneath the corresponding card. To clarify, one by one, balls are drawn out at random and are automatically marked off the Mega Ball cards. As this is happening, the cards with the most marked numbers on them - i.e. the cards that are more likely to win - are sorted and moved to the top of the order. Any lines are marked off in gold, while potential winnings are updated as well.
Once all that has been done, it's time for the Mega Ball Bonus Round!
Mega Ball Live Key Features
Mega Ball Bonus Round: This is triggered after all 20 balls have been drawn in the main round. At the start of the bonus round, a Mega Ball Multiplier ranging from 5x - 100x is generated. A physical ball is then drawn from the machine, and this determines the number of the Mega Ball.
If the Mega Ball number completes any line in your card(s), the payout on that card is multiplied by the Mega Ball Multiplier. If, on the other hand, the Mega Ball number does not complete any lines in your card(s), then it's simply treated as an ordinary ball, and the payout is not multiplied.
Finally, if there's more than 1 Mega Ball among your winning lines on the same card, then the payout is multiplied by the highest multiplier only.
Other Games from Evolution Gaming
Enjoy this game and want to see other titles we have on-site? Check out these other online games from Evolution Gaming:
Show all games
Safer Gaming
This is a real money gambling site. Please always keep your play safe and fun and only bet what you can afford.
Play Mega Ball Live at Lottomart Games
Are you a bingo enthusiast who's on the ball and looking for an opportunity to score massive multiplied wins? Then Mega Ball Live is the game for you! If you're a new player at Lottomart Games, you can make use of our generous welcome bonus - with a 100% deposit match up to $1200! (T&Cs apply, 18+ only).
View full 100% Games Welcome Bonus 1 Terms and Conditions →