Cash Factor 1k Scratchcard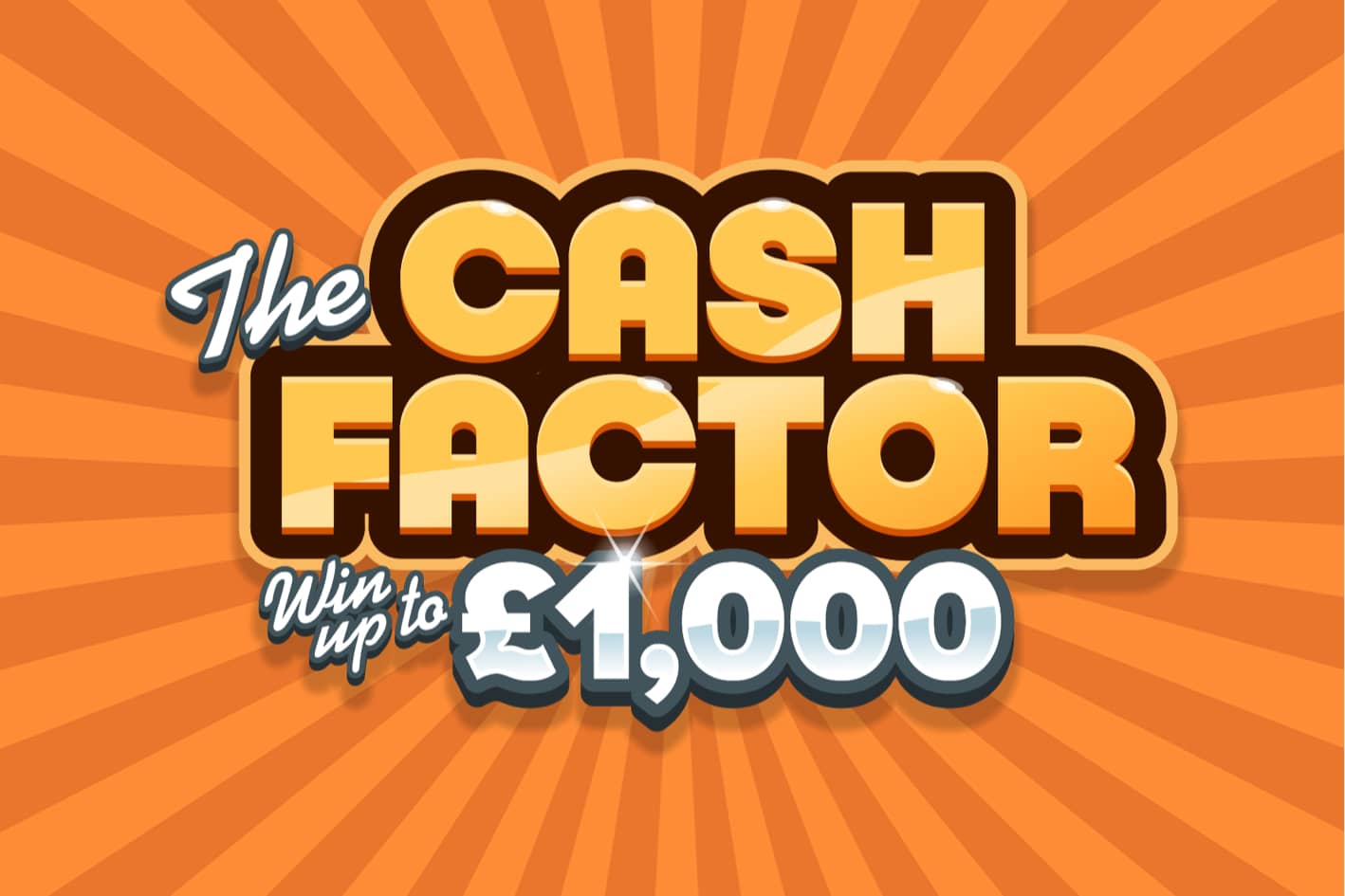 Cash Factor 1k Preview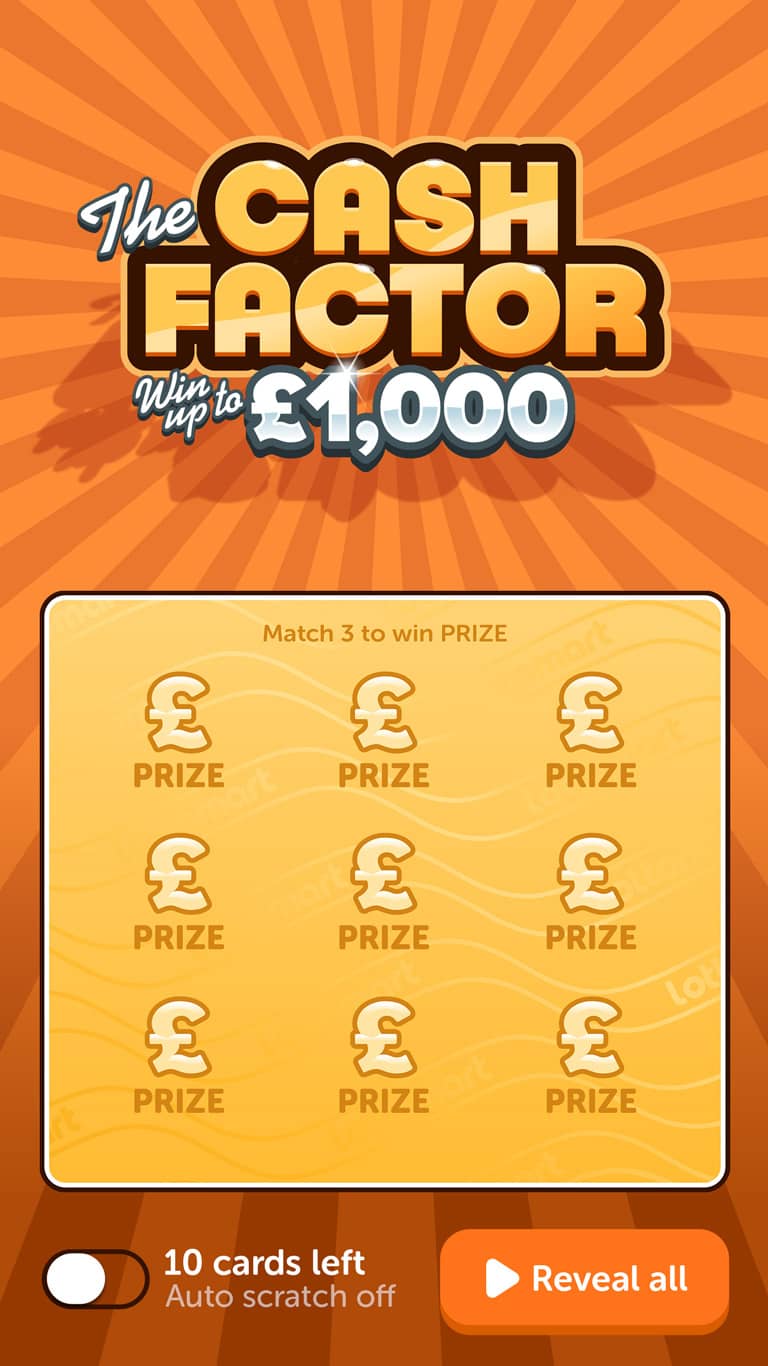 Cash Factor 1k Scratch Card
Cash Factor 1k is part of the Cash Factor Series of Scratch Cards. Individual cards start at just £0.10 with a potential top prize of £1k. Meanwhile, the imagery reflects a cheerful and simple take on the X Factor… with cash!
Cash Factor 1k Scratch Card Game Background
Lottomart's Cash Factor 1k is another exclusive Scratch Card not available anywhere else. Cash Factor 1k has all the bells and whistles that most modern online scratch cards have. The theme showcases shaded orange beams streaming from behind the logo, itself resplendent in gold and silver.
Layout-wise, Cash Factor 1k presents a simple 3x3 grid with pound symbols, each sporting the word PRIZE below it. The layout itself has a nice gold sheen to it with wavy lines. As befitting a card called Cash Factor 1k, symbols comprise coins, cash stacks, gold bars, and more.
Cash Factor 1k is just one in a series of 5 cards. Other ones in the series include Cash Factor 5K and Cash Factor 100K.
How To Play Cash Factor 1k Scratch Card
Playing the Cash Factor 1k Scratch Card is easy. The idea is to scratch off the virtual manually or automatically. Manual scratching involves pressing, holding or swiping to remove the coating to reveal the hidden symbols. Players can also shake their devices or press the "Reveal all" button.
Auto-scratching is even easier and involves activating the auto-scratch feature. Pressing start then starts the auto scratching. The hidden symbols then get revealed. This process continues until the symbols in all purchased cards are revealed, or players win a jackpot.
How To Win Cash Factor 1k Scratch Card
Players must match 3 symbols to win the prize amount shown immediately below the matching symbols.
Cash Factor 1k Bonus Features
Cash Factor 1k doesn't have bonus features per se. However, it does have a feature via which winning symbols light up in colour.
Play Cash Factor 1k Scratch Card At Lottomart
Like your cards bright and cheerful? Cash Factor 1k is available at Lottomart alongside many other Scratch Cards. Cards start at 10p, while a pack of 50 cards costs just £5.
Other Online Scratch Cards
Players can purchase many bespoke Scratch Cards at Lottomart. Aside from Cash Factor 1k, we have the other ones in the series, like Cash Factor 25K. Want something a little different? Head to a winter ski resort in the Swiss Alps in Alpine Escape or a sun-burnished Caribbean getaway in Tropical Escape! And we're not even done yet. Lottomart also features Scratch Cards themed around Celtic luck (RainbowScratches) and Ancient Egypt (Cleoscratcha); the latter stars the Queen of the Nile! No matter which ones take your fancy, all our Scratch Cards are designed to be as intuitive and easy to use as possible and include additional quality-of-life improvements. Our full range is below!
Cash Factor 1k FAQs
Where Can You Play The Cash Factor 1k Scratch Card?
Like with most other scratch cards, the Cash Factor 1k can be played at a range of online casinos. Lottomart is one example, with players required to be over 18 to play.
What Is The RTP In The Cash Factor 1k Scratch Card?
The odds of a winning card for the Cash Factor 1k scratch cards is 1 in 2.51 cards, however, like with all RTPs this is just a theoretical measure of chance.
What Is The Maximum Win In The Cash Factor 1k Scratch Card?
As can be denoted from its name, the maximum win in the Cash Factor 1k is £1,000. These cards are £0.10 each and to form a win, 3 matching symbols are required to be scratched off.
Can You Play The Cash Factor 1k Scratch Card On Mobile?
If it suits your personal preferences, the Cash Factor 1k scratch card can be played on mobile as well as a bunch of other devices thanks to the adaptive device technology used when being created.
The Cash Factor 1k Rules Summary
1 in 2.51 chance of winning a prize per card
GBP/EUR/USD/CAD 1,000.00 top prize per card
GBP/EUR/USD/CAD 0.10 price per card
Price & prize currency matches your account's currency
80% payout (also known as return to player)
Match 3 symbols to win PRIZE
How to play and win
You must reveal all symbols by scratching the coating to see if you've won.
To scratch manually:
Scratch the game area by pressing, holding, and swiping until the coating has been removed and all symbols can be seen.
Shake your device or press reveal all to clear the coating and show all symbols.
To scratch automatically:
Set auto scratch switch to on.
Press start to initiate auto scratching.
Each remaining card will auto reveal, show results, and advance to the next card until stopped, the cards run out, or you hit a big win.
Hit stop at any time to prevent advancing to the next card after the current card completes.
To win:
Match 3 winning symbols to win the prize amount shown immediately below the matching symbols. Winning symbols will light up in colour.
General
All games are subject to Lottomart's general Terms and Conditions.
Safer Gaming
This is a real money gambling site. Please keep your play safe and fun at all times and only bet what you can afford.
View full 100% Games Welcome Match Deposit Offer Terms and Conditions →